I'd like to introduce to you an interiors stylist and lifestyle trends expert Laurence Sevy. She designs spaces that focus not only on aesthetics but on how they can make you feel. Spaces that foster good energy, reconnect you with nature, and make you feel at peace. She has shared with us her article about how choosing quiet colors for the bedroom can help soothe your mind, body and soul, to foster deep relaxation and quality sleep.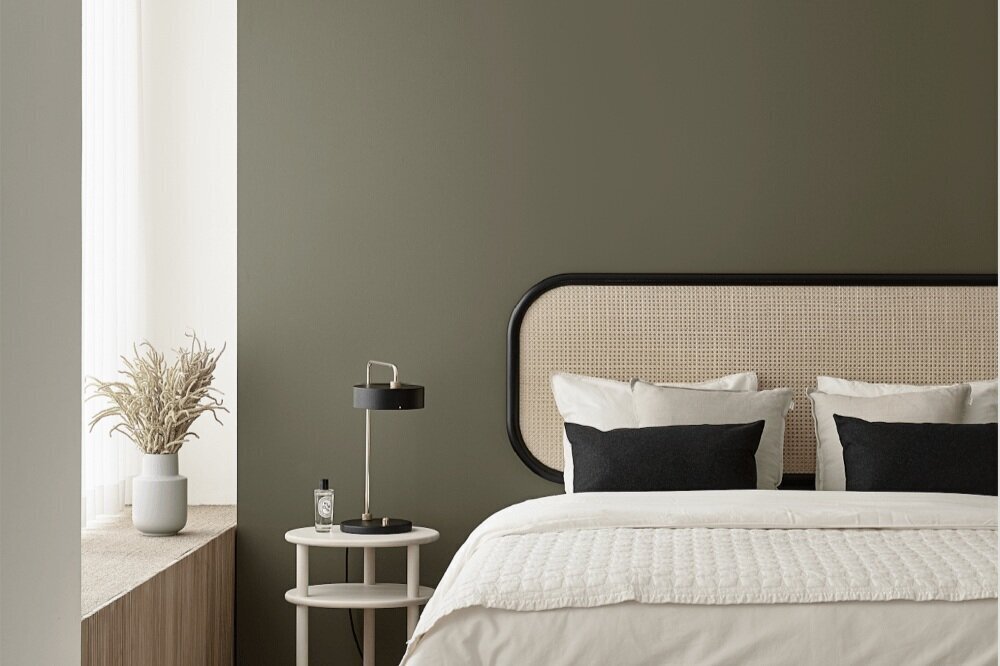 Matri 
Serene bedrooms are essential for restful and restorative nights. With a balanced colour palette, your bedroom can become a calm sanctuary that will help you to centre yourself and relax before bed time, allowing you to sleep deeper and better, till morning. 
Did you know that we perceive colour even through our closed eyes? This means that we can subconsciously feel the vibe of the space we are in while trying to get to sleep. The environnement in which we spend our nights is vital to our wellbeing and determines what sort of days we have, and colour can be one of the simplest and most effective routes to creating a calming cocoon. Along with natural materials and simple decors, quiet tones can help create a peaceful, nurturing space that instills a sense of calm and security. And if you enjoy spending time in your bedroom before turning the lights off, chances are that you will get to sleep more relaxed and have a more restful night. 
So what are the colours that can help soothe your mind, body and soul, to foster deep relaxation and quality sleep? 
---
SIMPLE NEUTRALS
Shifting away from the cool greys of last year, choose warm neutrals with a yellow base. These raw, organic tones are the perfect ground to build upon, mixing beiges, off-whites, oatmeals and natural buffs with lots of brown, bringing a sense of comfort and cosiness to minimalist interiors. Use the lightest colours for bedding, and the more earthy tones for furniture and accessories, with honest, natural materials like rattan, wood and stone. Using Japanese and Nordic essentialism as inspiration, these surfaces exude a feel of quality and craftsmanship. Also embrace the concept of 'low living' promoted by Ferm Living in its SS20 collection, with low furniture that bring you closer to the ground and make you feel more connected with nature.
Styling tip:
Choose an accent colour to break up your neutral schemes and add punch to tonal environments. Including it in accessories like cushions, rugs and wall decor will add depth and interest.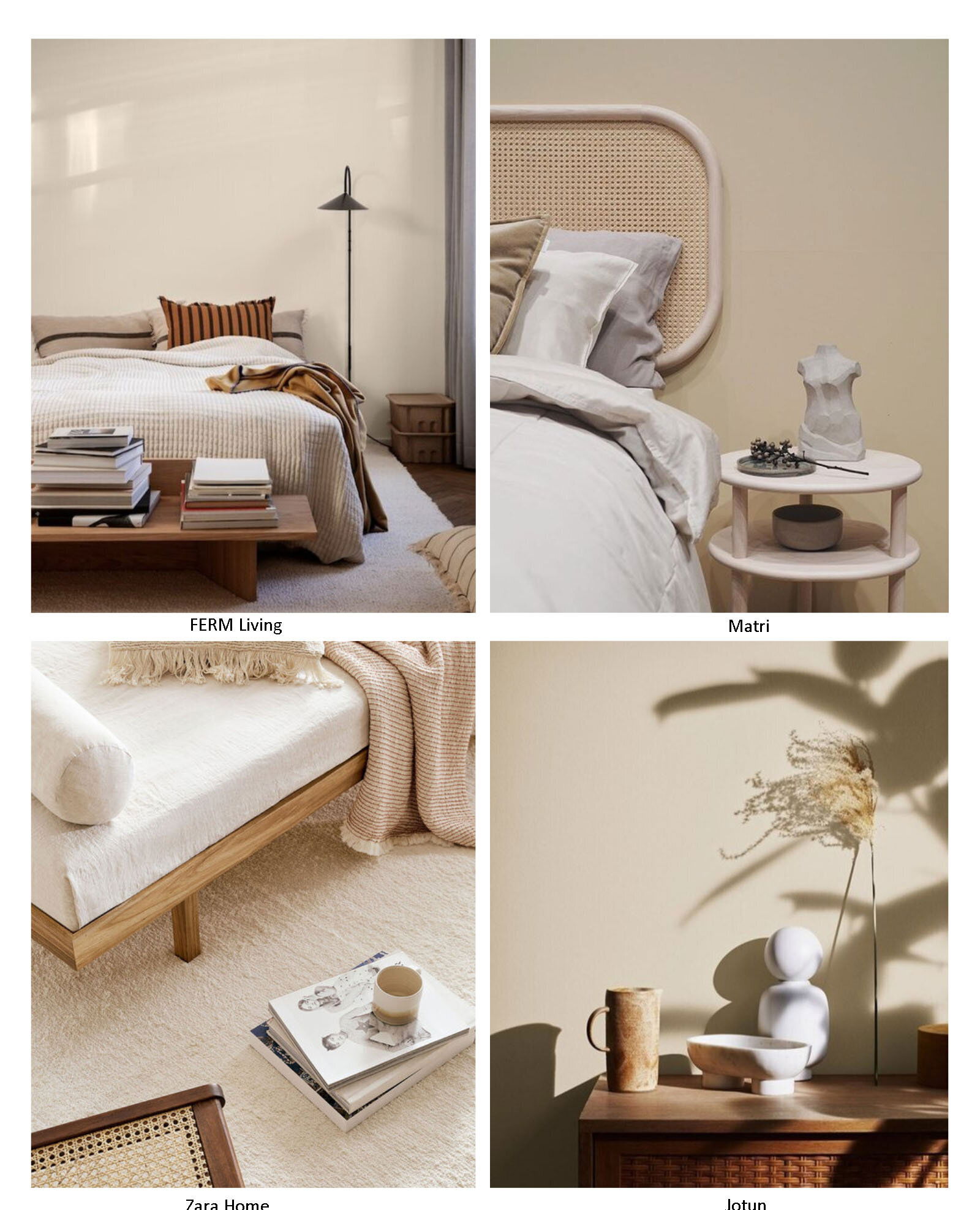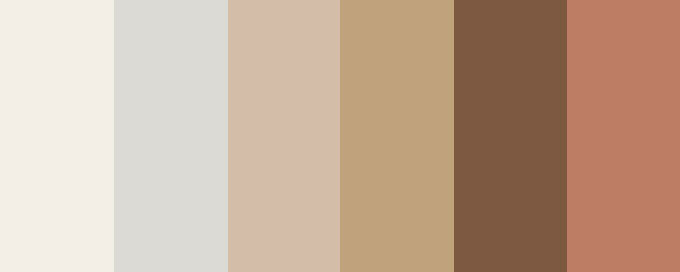 BOTANICAL GREENS
Surround yourself with colours found in nature. The effects of nature on the mind and body are pretty impressive, and the amazing news is that you don't even need to find yourself physically in nature to feel the benefits. The simple fact of viewing scenes of nature reduces anger, fear, and stress, reduces blood pressure, heart rate, muscle tension, and strengthens the immune system. Scientific research has found that even a simple plant or the representation of a plant in a room can have a significant impact on stress and anxiety. So disconnect from the digital world and its synthetic tones, and reconnect with the earthy quality of natural elements. Bring a little of the outside world into your home with calm and gentle layering of greens that will add an organic feel to your bedroom and instantly help you relax. Harmonious, tonal palettes of sage green, sap green and other herbal greens will instantly make you feel calmer, nurture your soul, rebalance your mind and restore your positive mood.
Styling tip:
Contrast verdant greens with warm greys or sandy beiges, for a refreshing and tranquil palette with a grounded quality. Beyond the attention given to colour, also ensure your bedroom has plenty of clean air and natural light.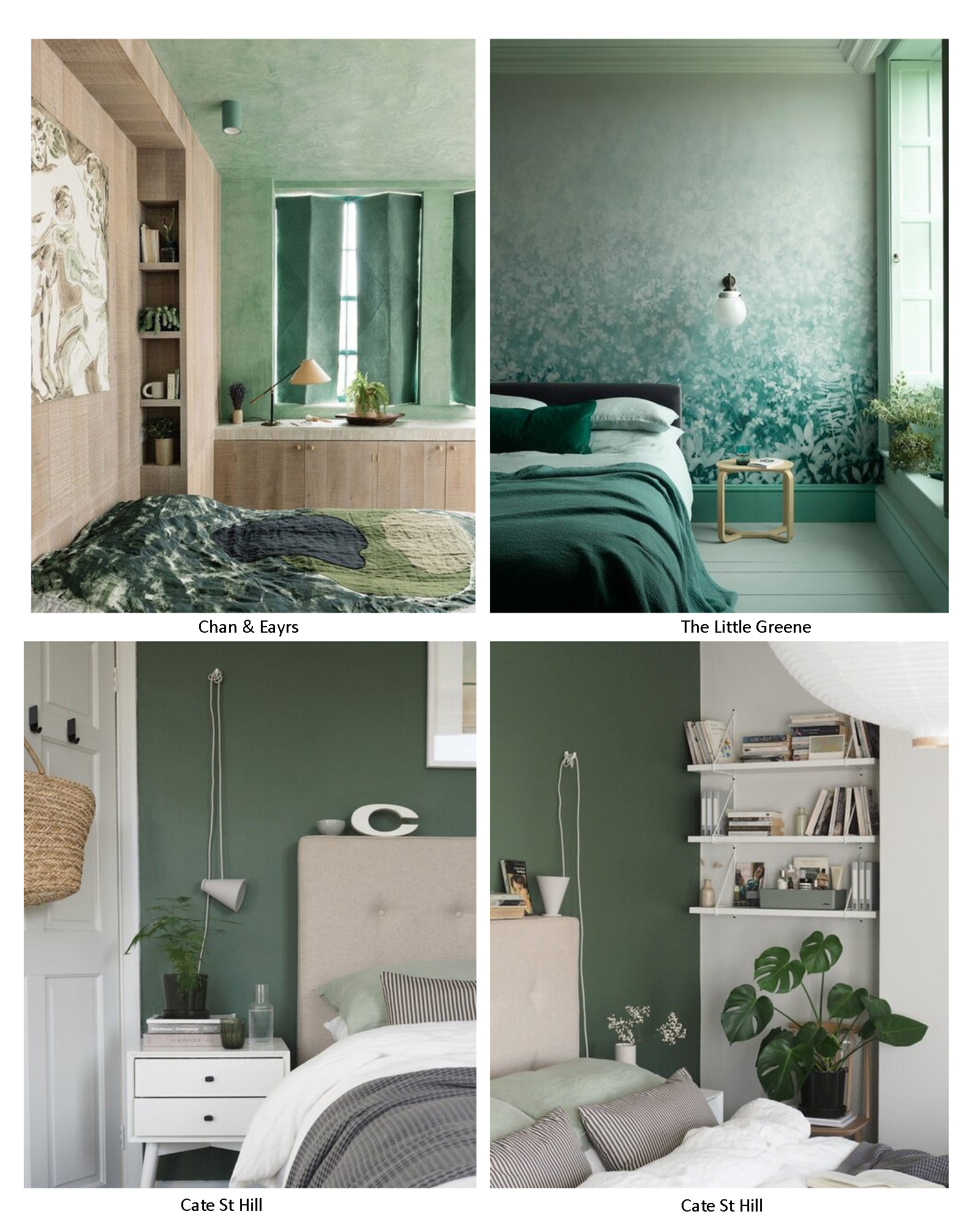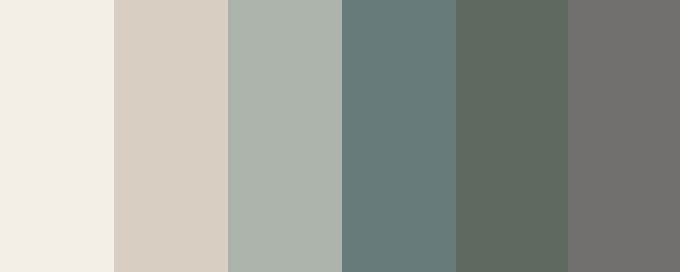 TIMELESS BLUES
Pantone has elected Classic Blue for its colour of the year 2020, a blue that "offers a sense of peace and tranquillity to help re-centre our thoughts." For a bedroom to express calm and serenity, the colour blue is perfect. Living with tonal shades of blue helps to create a peaceful space that evokes stability and confidence. But be mindful to choose your blues on the cooler end of the spectrum, staying away from cyans and turquoises. Recent research by the University of Manchester confirmed that higher levels of cyan keep people awake, while reducing cyan is associated with helping sleep. The blue light of screens has long been identified as more likely to delay sleep – in nature blue light only occurs at dawn, when our bodies need to awaken – but an interesting new finding is that their impact is felt even if colour changes are not visible to the eye. When people were exposed to more or less cyan, researchers were able to measure different levels of the sleep hormone melatonin in their saliva, even if they couldn't see the changes in colour.So go for deep, rich blues that will give a comforting cocoon result, lit up by light greys or warm wood tones. 
Styling tip:
Create a simple and seamless space by using a single paint colour. Painting your walls, window panels and even ceiling entirely in one tone will give you an enveloping and comforting bedroom. Variations of colour on the furniture and accessories will bring the lighter, warmer touch.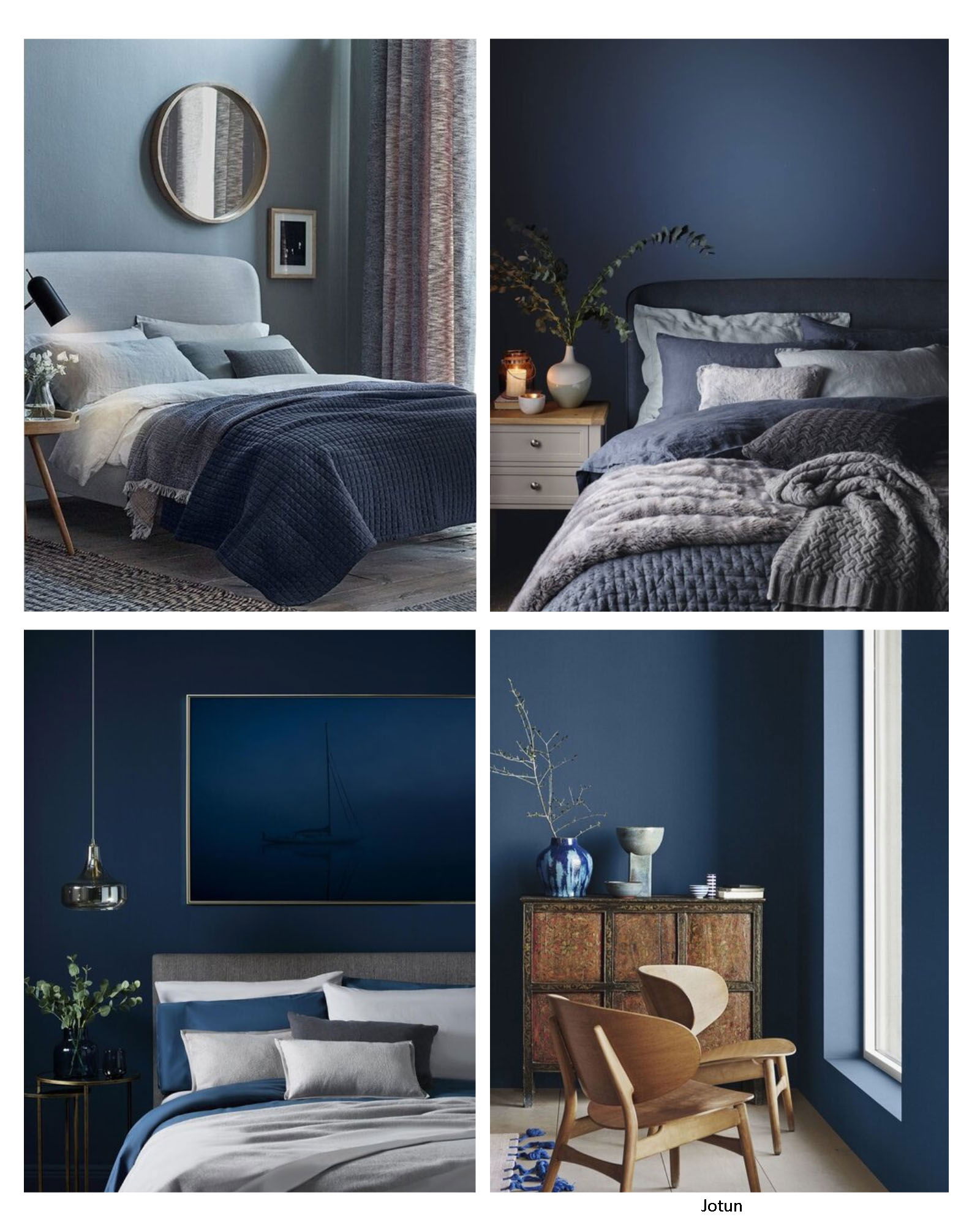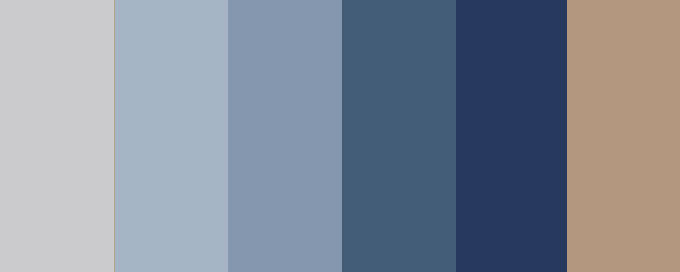 SUNSET LUXE
Cocoon yourself in warm tones of clay and terracotta, painting your walls with putty colours inspired by aged plaster and earthenware. These earthy natural pigments create energetic yet quiet surroundings and work beautifully with all types of woods for a tonal atmosphere. For an equally cosy palette with a more elegant undertone, pair desaturated and burnt oranges with subtle hues of whispered lilacs and soft beiges. This is a theme in which you can easily add exotic patterns and rich layers of fabrics if you want a slightly more luxurious feel.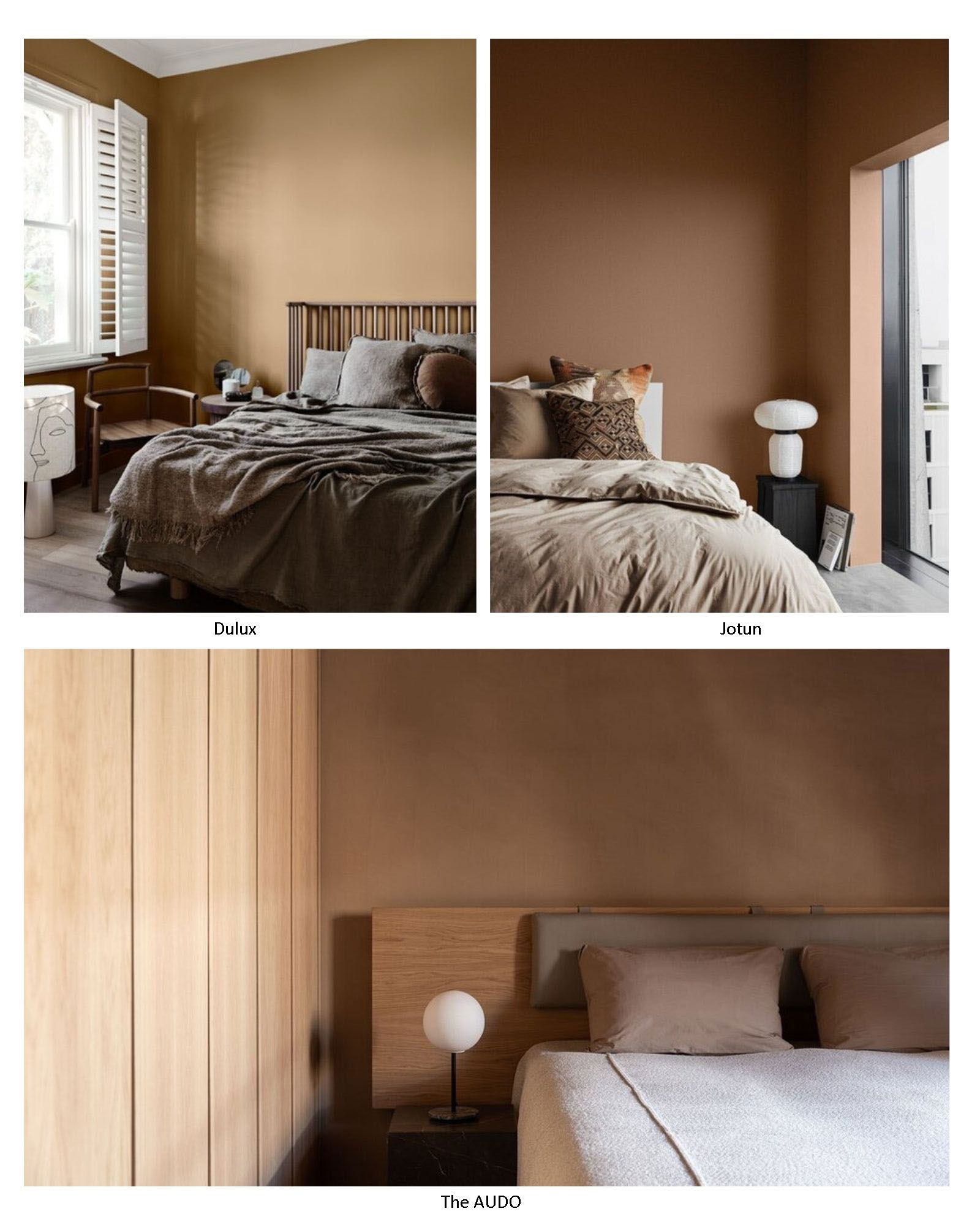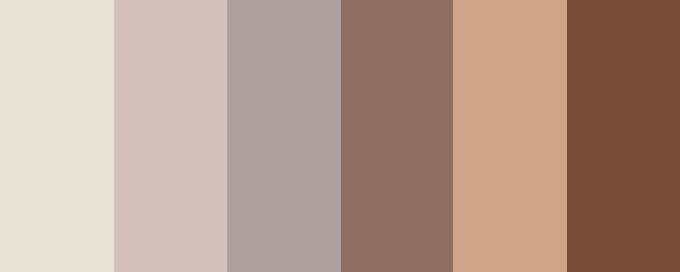 DEEP MINIMALISM
For a moody and homey space, choose darker hues like textured granite, rich ebony, red soil or crushed berries. Purple is also one of the colours known to promote better sleep. In colour symbolism it is associated with wisdom, creativity and mysticism, which should make for interesting dreams. If you are unsure where to start, pick a warm grey or deep blue base for the walls. Plaster effects will add depth and another layer of cosiness. Then lighten up the room with lighter shades of bedlinen, or on the contrary, heighten the dramatic effect of the space with darker bedding that will create shadows and bring a sense of mystery. You can even paint the ceiling for extra snugness.
Styling tip:
Tactility is key for a soft and cosy bed. Bring the right amount of texture by layering textiles of different weight and feel.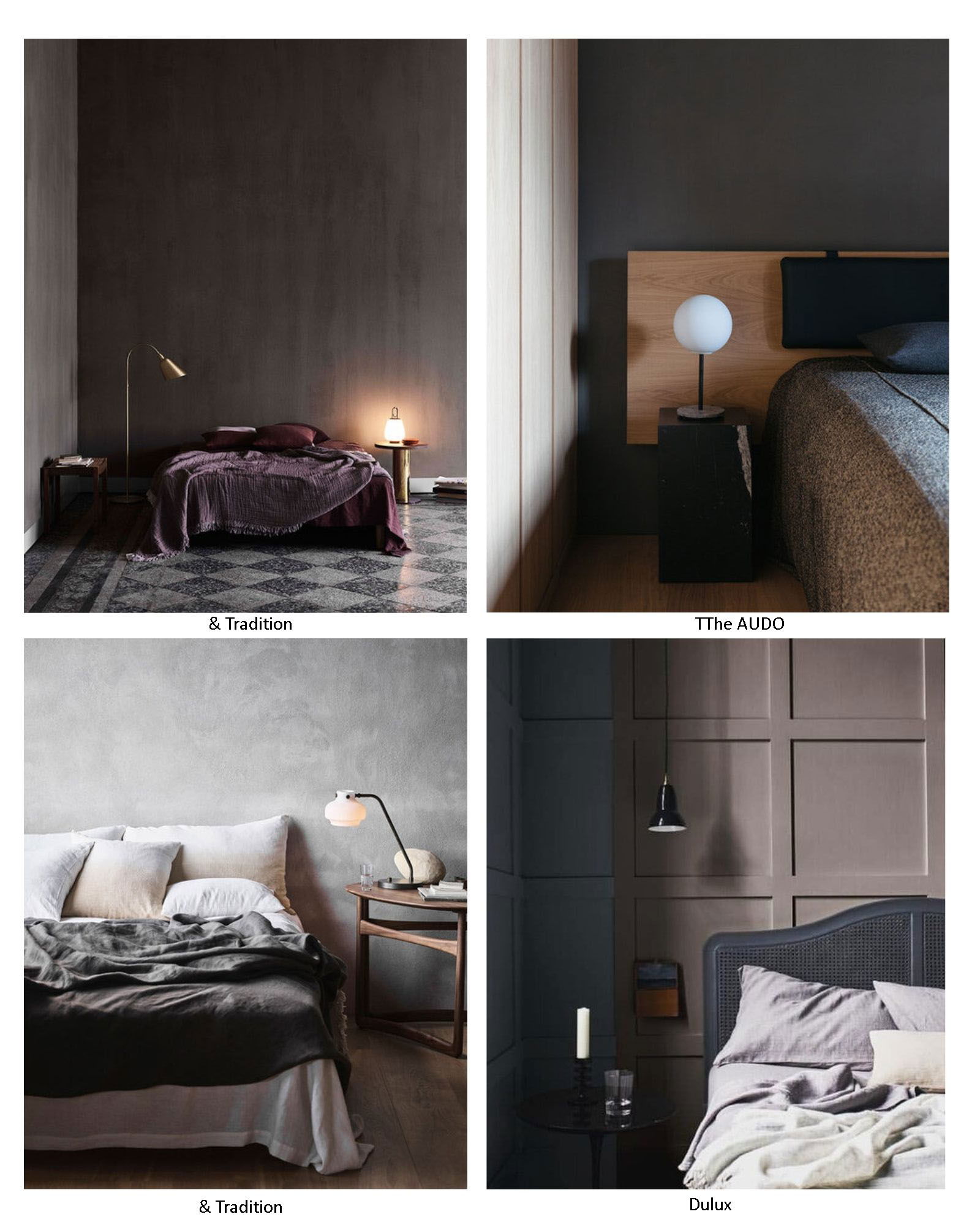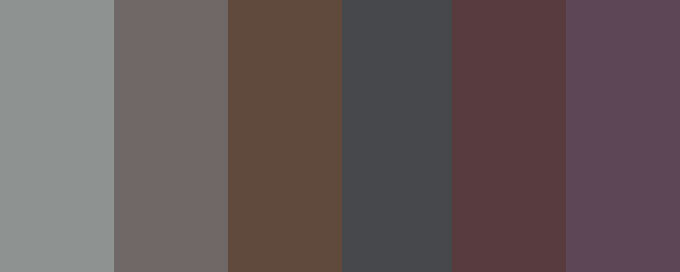 NEUTRAL OPTIMISM
Soft, airy pastels provide a refreshing alternative to white or beige grounds but are an equally timeless way to lighten up a room. Clear and light, these fluid shades change tonality depending on the colours they are used with, allowing you to build your own narrative. An impressive number of paint companies chose a pale, calming shade for their colour of the year 2020, inviting us to relax and breathe. This is the case of Dulux with Tranquil Dawn, inspired by the morning sky, a delicate shade that sits somewhere between green, grey and blue. Not very far off, Jotun's Exhale evokes the stillness and silence of water, while Benjamin Moore's First Light is a very soft pink that is fresh and fun. For a truly light-hearted and positive feel, mix and match all of them freely. Just make sure to add a stronger accent to avoid monotony.